How long have you been in business?
Blink of an Eye Productions has been in business since 2001 and has been providing it's clients with high-end wedding videography ever since.
How many wedding videos have you shot?
Blink of an Eye Productions has produced over 1,000 videos for clients all across the Chicagoland area since 2001.
Do you use drones to create footage?
Yes, we use drones for amazing aerial shots.
What is the style of your videos?
The style of our videos is definitely like no other. Our videos definitely have a documentary quality about them. The interviews and stories are intricately woven with music connecting entertaining and heartwarming scenes from your wedding. Our editing style is very edgy and our videos tend to be fast paced and cut to music chosen by the bride and groom. Our videos include interview sessions of the bride and groom, b-roll footage, documented scenes from every major event of your wedding, time lapse photography, video messages, and stills of childhood and dating. Our videos are also shot and delivered in a widescreen format adding to the cinematic quality of the picture. We try to give that professional Hollywood edge...even down to our DVD mastering and packaging.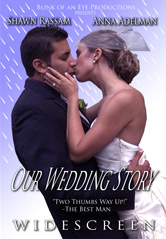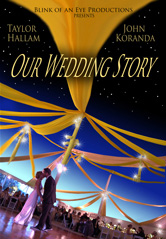 How intrusive will you be?
We realize that while your wedding video may be important to you, the actual wedding celebration itself must always come first. That's why we always try to be as unobtrusive as possible...especially during the important events such as the ceremony. We always respect all of the rules and regulations set by the church or other ceremony locations. We try to capture people acting as natural as possible, which is why we try to blend into the background. It's very similar to shooting reality television. We try not to stage anything and only document that which happens. And our light sensitive digital cameras often reduce the need for annoying bright lights...something we are aware of.
Do you use any lights during the wedding?
We usually do not need to use any lights during the ceremony. However, some reception locations can become very dark...especially during the dancing portion of the evening. Therefore, it may be necessary for us to use some lighting to properly expose the image. However, at Blink of an Eye Productions, we try to have fun and be creative with the lighting. We can bring studio lighting to light the dance floor different colors. This allows us not to have to use the on board light on our cameras so that your guests don't feel so "put on the spot" when the camera is on them...which helps keep us in the background and not be the center of attention at the wedding. Lighting is definitely an important aspect of designing a wedding and it definitely should be discussed with your videographer and wedding planner. Lighting can add a lot of dimension and color to a video and really enhance the way your reception looks on film.
Do you interview guests at the reception?
We do not interview any of your guests at the reception. We try to be as unobtrusive as possible so that your guests can have a good time at your celebration without feeling put on the spot or embarrassed to be on video. That's why we created the Video Message Camera where guests can walk up at their own leisure and leave you a special video message to an unmanned camera.
Do you have quality microphones for good sound recording throughout the wedding?
Yes, we have a couple of different professional microphones that we use throughout the wedding. We usually use 2 wireless lavaliere microphones during the ceremony. One of them is attached to the groom and the other is attached to the podium for the readers. We sometimes keep the groom hooked up to a wireless microphone throughout the day. We also have Seinheiser shotgun microphones (complete with shock mounts) which are excellent sources of quality audio for numerous situations and environments which are often encountered when shooting entire weddings. We are often complimented for the quality and clarity of our audio. You will definitely be able to hear your vows on this video!!
Do you offer high definition and blue ray?
Yes, you can choose to have your wedding video shot in high definition at 720p or 10801 and delivered in all of it's high-def glory on Blue Ray disc.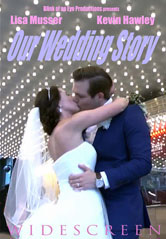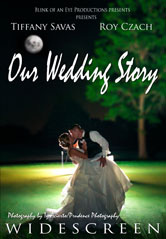 What type of equipment does your studio work on?
Our post-production facilities feature the latest in technology that Apple computers has to offer. Everything from the hardware to the software is Macintosh based. We work of high end Mac Pro computers and cut our footage in Final Cut Pro. This Software allows us enormous creative flexibility to control the entire look and feel of the project. Technology has just recently changed the landscape of what we can do with your captured images. What was once thought to be only doable in the hands of a Hollywood studio is now doable in the hands of businesses like us.
How long does it take to receive the final product?
Expected turnaround time for the final product is anywhere from 1 - 4 months. An extensive amount of post-production is done on each of the videos, often ranging from 40-60 hours on each video. Wedding's shot earlier in the season usually have a quicker turnaround time than weddings shot later in the season. This is due to the seasonal nature of the business, where we have a large number of weddings shot during the short summer season. Clients can call or e-mail to check on the status of their wedding video at any time.
How do I reserve Blink of an Eye for my wedding date?
You can reserve Blink of an Eye Productions for your wedding by calling or e-mailing us anytime to set up an appointment to speak with us in person. In order to officially reserve your wedding date, a contract must be signed and deposit of 1/2 the total cost of the video package must be paid.
What forms of payment do you accept?
We accept Visa, Mastercard, cash or personal check. Please make checks payable to Blink of an Eye Productions.
Can we make changes to the final video?
All clients retain the right to request changes of their video after first viewing. We want you to be truly happy with your wedding video, and we will do anything in our power to correct anything that needs changing.
How far will you travel?
Blink of an Eye Productions will not charge any travel fees for weddings within the Chicagoland area. We have shot weddings as far away as Cabo San Lucas, Napa Valley, Oaxaca Mexico and New York City...so if you are an out of town bride, it shouldn't be a problem for us to fulfill your videography needs. For destination weddings, pricing will be upon request and will include the cost of round trip airfare and per diem expenses.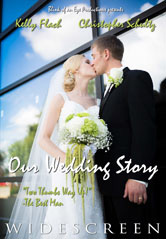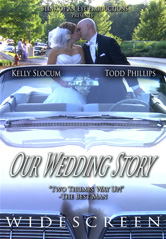 Do you do any special effects or color correction?
From titling programs to motion graphics to color grading, Blink of an Eye Productions has all of the necessary tools to upgrade your wedding video into the twenty-first century. We achieve this through utilization of such industry professional grade software as Motion, Shake, Adobe Photoshop, Adobe After Effects, Final Cut Pro and DVD Studio Pro. Having a leg up on industry software allows us to stay ahead of the curve and provide you with a truly memorable experience of your wedding video...one that you will definitely want to watch more than once.